Happy Friday!
It is time for another wonderful challenge from
Pause Dream Enjoy Challenges
!!!
This week's question is:
Do you smile often?
Create any type of project with FACES (drawn faces, cut faces, stamped faces, etc.)
My answer to this week's question is ... YES! I have a lot to be thankful for, therefore, I smile! Let me list some of my reasons to smile:
1. My honey thinks he is the funniest person around. He makes a lot of 'funny' jokes (or at least he thinks they are funny).
2. My honey is very silly. He has an active imagination ... that can be a good thing or a very bad thing.
3. My kitties make me smile with their funny feline antics. Bubbe likes to bring me paper 'treasures.'
4. I smile when I am please with a finished project.
5. When the birds are jumping from branch to branch in the bushes by my crafting window.
6. When one of the cats thinks they can catch the geckos on the window screens that are attracted to the bugs because of the light.
The list goes on and on. I smile when I think of my PDEC Design Team Sisters and their wonderful creations. Don't forget to stop by each of their blogs and
post a comment to make them

SMILE

!
Let's get on with the show ... here is my 'Smile' project!
Isn't she adorable? I just love my SIMPLY CHARMED Cricut cart. It is so versatile. Here are the details of my project:
Tag: ELEGANT EDGES, pg 46, Heart2-s, cut @ 4.5" using Oblong and Shadow features
Scarecrow: SIMPLY CHARMED, pg 57, Scarecw2 and all her layers cut @ 3.7"
Smile: PAISLEY, pg 36, Frog2, cut @ 0.9" using Word/Word Blackout and Word Shadow features
Cardstock: The Paper Company (Black, White, Lt Tan, Yellow, Light Green and Medium Pink)
Patterned Cardstock: DCWV (Sweet Glitter Matstack)
Patterned Paper: DCWV (Spring Fling and Summer Days Combo stack)
Ink: Tim Holtz (Tea Dye Distressing Ink)
Color Medium: Sukara (White Jelly Roll Pen)
Accents: Making Memories (Mini Blossoms - Polo Mix) and Joann's (Round Mini Brads - Pastel)
Adhesives: Scotch (ATG and foam tape) and EK Success (Zig 2 Way Glue Pen Fine Tip)
I loved using the patterned paper by DCWV. This sheet has several stripes of different patterns and a lot of detailing at the top of the page. I chose to use the stripes near the bottom so I positioned the cutting blade by placing the tag shadow on the paper and moved the blade to the correct length, removed the tag and proceeded to cut. I like it when I can plan something and everything goes as planned.
Our Sponsor this challenge is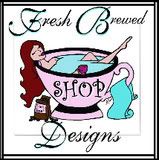 Prize is 3 digi images of the winner's choice!
Fresh Brewed Designs STORE...
here
Fresh Brewed Designs CHALLENGES...
here
Fresh Brewed Designs FACEBOOK PAGE...
here
Fresh Brewed Designs FANS - SHOW US YOUR CREATIONS....
here
So, pop over to Fresh Brewed Designs Store and start making your wish list.
I will leave you with a ...
Toodles and Happy Crafting,
Blessings,
Belinda